50 Capsules Instant Flea Killer Control small Dogs / Cats 2-30lb prevention 15mg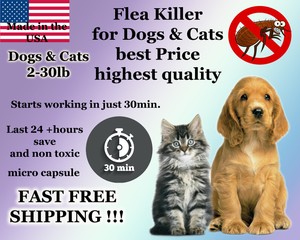 ---
NOTE TO : Product is readily available as a NON- PRESCRIPTION, OVER THE COUNTER, NON- CONTROLLED substance. Get Better quality for a better price !!you get 50 flea killer for cats or dogs 2-30lbgive 1 pill every day or every 3-5 days it last +24hit will start killing in 30min.give with fatty food15mg 100% Satisfaction Guarantee  Free, Fast same day  Shipping if ordered before 12 noonotherwise it will go out the very next day!!Fresh product, Exp. 11/20  Flea Killer starts working in 30 minutes!  
So gentle it can be given daily (once every 24 hours) to puppies, kittens, cats, and dogs, including pregnant or nursing dogs and cats.
will pass from your pet?s system within 24 hours of ingestion.
What makes this product so safe is that it does not build up in your pet?s system, as many over the counter products do.
If you are unsure if the first Capsule given was ingested, it is safe to administer a second Capsule.
Our Capsules are 100% kosher and Halal inspected, and BSE free.
Easy to administer Capsules are easily Opened to mix with your pet?s favorite food, and small enough to be easily concealed within their favorite treats.
All Capsules are compounded daily to meet order demands.
Please see product packaging for specific Capsule administration information.
Always consult your veterinarian for diagnosis and treatment plans before using any over the counter products for your pets.
General Description Used to kill adult flea infestations on your pet. It works very fast and begins acts on the adult fleas? nervous system within 30 minutes, killing them all within 4-6 hours. It is useful in the case of kenneling, showing, and traveling with pets, or to use in conjunction with a flea sterilant such as monthly. It does not act on immature fleas, eggs, or larvae, as they do not take a bloodmeal.     How It Works   Starts Working in 30 Minutes!! After your cat or dog takes the Capsule, it is absorbed into the bloodstream very quickly. Once a flea takes a bloodmeal from your pet, they ingest enough of the drug to kill them.   Storage Information   Keep in a seal package at room temperature. Missed Dose?   If you miss a dose, or are unsure a dose was given or swallowed, a second pill may be given safely.   Side Effects and Drug Reactions Don't be alarmed if you're pet starts scratching like crazy after you give then the Flea Killer.  In cats, it can last up to 6 hours, on and off, and in dogs about 4 hours. If one pet has fleas, make sure every dog or cat in the household receives some sort of flea preventive.* As with any over the counter treatments for your pets consult your veterinarian for diagnosis and treatment plans before using any over the counter products for your pets. DO NOT USE IN PETS UNDER 4 WEEKS OF AGE OR WEIGHING UNDER 2 POUNDS