BIRD RINGS FOR COCKATIELS,ROSELLA'S,SIMILAR PARAKEETS+JAPANESE QUAIL ETC(5.8mm)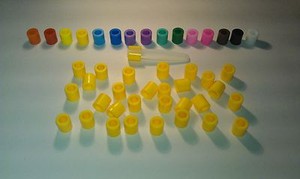 ---
30 BIRD RINGS AND ONE FREE APPLICATOR
 PER PERSON
 FOR COCKATIELS,MEALIES,PILEATED,
REDRUMPS,GMR'S,PORT LINCOLN'S,
BARRABANDS,POW'S,BARNARD'S,
CLONCURRIES,PENNANT'S,ROCK
PEBBLAR'S,CRIMSON WINGS,
PLUMHEADS,JAPANESE/BLUE SCALED AND
COTURNIX QUAIL'S,SIMILAR SIZED DOVE'S,
SIMILAR SIZED PIGEON'S 
AND ALL SIMILAR SIZED BIRDS
HI,HERE FOR YOU TO PURCHASE ARE HIGH QUALITY BIRD RINGS MADE FROM
HIGH QUALITY PLASTIC.IDEAL FOR SEXING,AGEING,DISTINGUISHING
FAMILY LINEAGE,DISTINGUISHING PARENTS FROM OFFSPRING ETC.
THE RINGS ARE SPLIT AND COME WITH AN APPLICATOR(SHOWN IN PICTURE) 
FREE OF CHARGE(ONE PER PERSON) TO EASILY FIT/REMOVE RINGS
TO THE BIRDS LEG/LEGS
N.B. THE STYLE OF THE APPLICATOR MAY VARY
THE SIZE OF THE INNER CIRCLE DIAMETRE IS 5.8MM IDEAL FOR COCKATIEL'S,MEALIES,PILEATED,REDRUMPS,GMR'S,PORT LINCOLN'S,BARRABANDS,POW'S,BARNARDS,CLONCURRIES,PENNANTS,
ROCK PEBBLAR'S,CRIMSON WINGS,PLUMHEADS,JAPANESE + COTURNIX QUAIL'S,
SMALL DOVES,SMALL PIGEONS AND ALL SIMILAR SIZE BIRDS.
THE RINGS ARE AVAILABLE IN THE FOLLOWING COLOURS AS SEEN ACROSS
THE TOP OF THE PHOTO FROM LEFT TO RIGHT:-
ORANGE,RED,LEMON,YELLOW,LIGHT BLUE,BLUE,LILAC,PURPLE,MINT GREEN,GREEN,
LIGHT PINK,PINK,BROWN,BLACK + WHITE OR MIXTURE OF ALL OR ANY
COMBINATION YOU LIKE IF WANTED.
PLEASE CONTACT ME WITH A MESSAGE SENT THROUGH E-BAY MESSAGES TO STATE
WHAT COLOUR/COLOURS YOU REQUIRE.
IF YOU DO NOT CONTACT ME WITHIN 1/2 AN HOUR OF PURCHASE I WILL
POST 3 DIFFERENT COLOURS PER SET AT RANDOM.
N.B. THE LINE OF RINGS ACROSS THE TOP OF THE PHOTO  IS TO SHOW
WHAT COLOURS ARE AVAILABLE TO PURCHASE ONLY.
EACH PURCHASE YOU GET 30 RINGS(COLOUR/COLOURS OF YOUR CHOICE) AND 1 APPLICATOR
PER PERSON NOT PER PURCHASE.
***************************************
IMPORTANT
IF YOU PAY BY POSTAL ORDER,CHEQUE OR E-CHEQUE I WILL NOT POST UNTIL I HAVE
RECIEVED P.O. OR CHEQUE OR E-CHEQUE HAS CLEARED 
***************************************
I COMBINE POSTAGE AND PACKING
PLEASE TO CONTACT ME IF NEEDED
**********************************************************************
N.B. I WILL POST ABROAD BUT WILL HAVE TO CHARGE EXTRA FOR POSTAGE,PLEASE GET QUOTE FIRST TO AVOID DISAPPOINTMENT
N.B. THE RINGS ARE NOT NUMBERED
FEEL FREE TO CONTACT FOR COSTS TO POST ABROAD OR ANY OTHER QUERIES 
Posted with the Android app