Dog Bed Large luxury Waterproof sofa kennel removable pillow 2 pillows free 2in1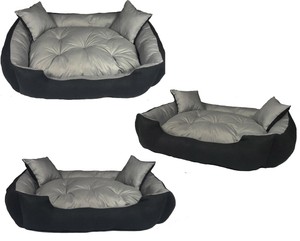 ---
Large luxury Waterproof Dog Bed sofa with removable pillow 2in1

2 pillows free.

This is not cheap China production.

FREE worldwide shipping + GIFTS ! 2 small pillows!

The dog bed consists of a few elements, the pillow can be removed.

Available sizes:

Outside      Inside

XS : 45/35cm     30/20cm

S : 55/45cm     40/30cm

M : 75/65cm     60/50cm

L : 100/75cm     80/60cm

XL: 115/95cm     100/80cm

XXL: 130/105cm     115/90cm

XXXL: 145/115cm     130/100cm

Product features

Material: Polyester Waterproof Codura.   comfortable bed for a dog to sleep, sleep and relax   thick padding   high and comfortable sides   high lying comfort   Sewn in EU on hand machines - Satisfaction guarantee   Resistant to dirt, scratches and deformation2 small pillows for freethe bottom of the bed is not waterproof

They are scratch and waterproof.

2 variants in a dog bedChanging variables is easy and possible at any timeYou decide which one you like bestJust turn the pillow overThis bed for a dog provides a warm and comfortable place to sleep. It can be used indoors, but also in building and dog huts. It is suitable for dogs and cats. Elegant design and universal color make the dog bed a great piece of furniture.