Moss on Mesh - Live Aquatic Aquarium Plants EASY and BEST VARIETY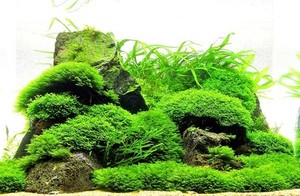 ---
Moss on mesh Collection We stock and grow more than 50! aquarium moss species. Ask us if you are looking for something special which is not on the list.Buy 3 get 1 FreeBuy 5 get 2 FreeBuy 10 get 5 Free (a free portion for every 2 purchased when you buy 10 or more)Bonus plants added when you spend £15 or more from us!Guaranteed result or your money back!You will receive one piece of steel mesh with a freshly tied moss to it which starts to grow within 2 weeks time.

All mosses are very easy plants and is one of the best addition to any aquarium. They are very good for raising fry or shrimp. All our mosses are either grown by reputable European nurseries or by us. There is no Asian import which are risk for your crustaceans! Very easy to add to the aquarium. Just place the mesh anywhere you like!

Mosses start to grow within 1-2 weeks in any aquarium. Success guaranteed or your money back!

Buy as many as you want for the flat (international) postage rate! UK delivery is Free.

We ship these worldwide...

1. Christmas moss - vesicularia montagnei

2. Weeping moss - vesicularia ferriei

3. Java moss - taxiphyllum barbieri

4. Spiky moss - taxiphyllum species

5. Round pelia - lomariopsis lineata

6. Pelia - monosoleum tenerum

7. Coral pelia - ricardia chamedryfolia

8. Taiwan moss - taxiphyllum alternants

9. Peacock moss - taxiphyllum species

10. Giant moss - taxiphyllum species

11. Stringy moss - liptodictium riparium

12. Feather moss - amplistegium serpens

13. Anchor moss - taxiphyllum species

14. Creeping moss - vesicularia species

15. Fissidens - fissidens fontanus.

16. Flame moss - taxiphyllum species

17. Steel mesh for attaching moss (no moss on mesh is supplied).

18. Cameroon Moss - Plagiochilaceae sp.

19. Erect Moss - Vesicularia Reticulata

20. Thailand Moss

21. Quell Willow Moss - Fontinalis Hypnoides

22. Giant Willow Moss - Fontinalis Antipiretica var. Gigantea

23. Marimo Moss Ball - Cladiophora (not on mesh, round in shape)

Damaged plants: We are happy to replace or refund any plant damaged during transit.

You will get: Each portion is 5cm x 5cm except flame, fissidens, coral pelia creeping and stringy which would be 4cm x 4cm about the same as you see in the picture below (5cm x 5cm). The moss is attached to stainless steel mesh, which is safe to keep in your tank.