WILD ARTEMIA EGGS / Brine shrimp EGGS from Great Salt Lake. 100% Natural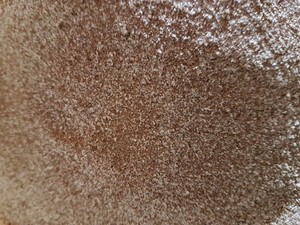 ---
Limited offer!New wild Artemia eggs.These eggs from Great salt Lake were washed and harvested in October 2018.I was received these eggs in a big 50kg bag.I use 1 teaspoon of eggs + 1 table spoon of salt added to 500ml of water.After 24 hours I got a result and you can see it on photo no. 4,5,6 and 7This hatch rate is around  85-95%.I sell these eggs with my own zip bags, with instructions for beginners.And i offer for you 60 days money back and any advise, if needed. I sell these eggs for fantastic cheap price only because this is wild Artemia and hasno brand. Description: You will get same eggs like you see on photo.1 x bag Artemia eggs (self packing) 1 x Instruction Dear buyers. This is premium class Artemia eggs, please,do not use SODA for their hatching.100% Satisfaction Guarantee

If you are not completely satisfied with your purchase I offer a full money back guarantee. 

Please notify us within 7 days of your delivery and upon receiving our goods back I will issue a full refund providing 

the item is unopened and "as new" (excluding P&P).

Goods Damaged in Transit

Please inspect your goods upon receipt of delivery. If they are damaged and require a signature by the courier sign for 

them as damaged and contact me immediately. 

Shortages or damages must be notified to me within 3 days of receipt of your order. Upon receiving our goods back

I will either dispatch a replacement item or issue a full refund, which ever your preference.

Returns Process

1. You may return any items which are damaged or faulty.2. Please notify me of your intention to return an item within 7 days of delivery and have the item returned to me no 

later than 30 days for a full refund.

3. Afterwards, please re-package the item safely and appropriately for transit and include a note stating the reason for the return.4. All items are returned at your own risk. In the event of a returned item being lost I will require proof of postage. 

Please keep any postage receipts or post via recorded delivery to avoid any problems.5. Return of non-faulty unwanted items will receive full refund minus a package and postage cost.

Please before you leave negative fedback just contact me and we will find solutions!  Dear buyer, please read this text carefully and take note.Let's start with the fact that the eggs of Artemia are a living organism, therefore it can respond in its own way to temperature changes during its transportation. Even if you received it at the post office, and then accidentally forgot in your car even for a day (and in the car with the windows closed it was hot and stuffy in summer or cold in winter),this fact can greatly affect the hatching percentage of artemia.You and only you are fully responsible for your actions for the percentage of hatching artemia. There are more than 20 facts that can affect the hatching percentage: water quality, hatcher quality, lighting, quality of artemia itself, aeration at hatching, water temperature, salt quality and even elementary hutcher cleanliness and much more.And if the package says - hatching 95% - it does not mean that you should get exactly 95%. This indicates the maximum possible hatching under a variety of conditions. If something does not work out for you, then write to us, and we will be happy to answer, we will help you with advice. But we can not help you if you give us a bad feedback first, and then ask for advice.As for the delivery of goods, here too often there are misunderstandings. We apologize in advance for the work of the postal services, but, unfortunately, we can not in any way affect the quality of their work.Postal services, although they indicate the time of delivery, but very often it does not coincide with reality. Please note that in the Russian Federation, the countries of Asia, as well as Central, North and South America, the delivery time can vary from 7 to 30 working days.Most of our customers are very happy with their results on hatching of our Artemia eggs. They gladly share their success with us and send photos of their experiments.We wish you every success.